About Us
The people of Standard ICF Corporation are committed to producing the very best in insulating concrete forming systems, making them affordable and easy to obtain, and doing everything we can to build our customers' success.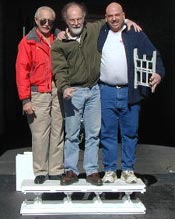 Dean, Tim, Jeff (and Don behind the camera), having fun!
Our experience with ICF systems goes back to the earliest days of their development, when we first recognized the possibilities of this revolutionary new way of building. Since then, several of the improvements we have engineered through the years--such as user-friendly plastic wall-tie brackets, factory-molded corners, and plastic corner brackets--have gone on to become industry standards, and we are more committed than ever to the future of building with ICFs.
We are constantly working to develop new innovations as we continue to build our experience with the manufacture, distribution, transportation, and installation of ICFs. And because we have worked as contractors and material suppliers ourselves, we know how to meet our customers' needs and prevent the frustrations that are too common in our industry.
We believe in creating top-quality affordable products that are readily available and easy to use, and in supporting those products with clear information and technical assistance built on our extensive knowledge of ICF installation. Just as important, we define our success in terms of building partnerships with our customers rather than just cashing their checks.
We believe in doing good work, making money, and having fun--and when we can help others achieve those same goals, we are all successful.
The Standard ICF Corporation Management Team